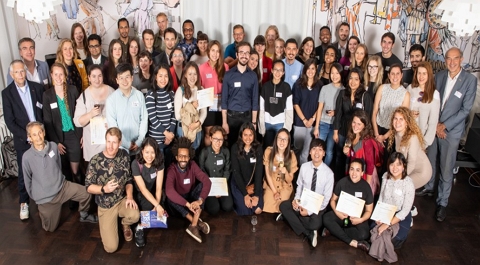 International students from around the globe who wish to pursue a Master's degree in their fields of study are invited to apply for the Utretcht Excellence Scholarship (UES) in the Netherlands. The scholarship award covers the tuition fees of the student. Interested and eligible candidates are encouraged to send their applications before the deadline.
Scholarship Details
The Utrecht Excellence Scholarship (UES) is a highly selective programme meant for talented high-performing students from outside the European Economic Area (EEA = the EU countries, Iceland, Liechtenstein and Norway) who seek to pursue a second degree at Utrecht University. The funds for the scholarships come from the Utrecht Excellence Scholarship Fund, established by Utrecht University and from contributions by Utrecht University alumni.
See Also: World Citizen Talent Scholarship at the Hague University, Netherlands
Award Benefits
The Utrecht Excellence scholarship can be awarded as:
tuition fees, or
tuition fees plus the required income linked to a residence permit for study as set by the Immigration and Naturalisation Service, for one year.
In a 2-years Master's programme the scholarship is renewable for the second year.
Level and Areas of Study
The scholarship opportunity is available for eligible master's taught programmes in the university.
Place of Study
The program is to take place at Utretcht University in the Netherlands.
Eligibility Criteria
To be considered eligible for the Utretcht Excellence Scholarship, the applicants must:
Belong to the top 10% of their graduating class;
Not hold an EU/EEA passport and not be eligible for support under the Dutch system of study grants and loans;
Have completed secondary school and/or Bachelor's degree outside the Netherlands;
Have applied for an international Master's programme at Utretcht University with a start date of 1 September, 2023.
Candidates are to be considered for scholarship on the basis of their academic quality and excellence, relevance of their motivation letter and the quality of their applications for the programme.
Check Also: Aix-Marseille Tiger Master Excellence Scholarships, France
Application Procedure
Non-EU/EEA students will have the option to submit an application for one Utrecht Excellence Scholarship. Select the programme you wish to apply for, upload the requested proof of belonging to the top 10%, answer the questions and submit the application.
Applicants must provide the following required documents:
Official transcripts
Motivation letter
Statement declaration of purpose
Curriculum Vitae (CV)
The submission deadline for this program is before 1st February.