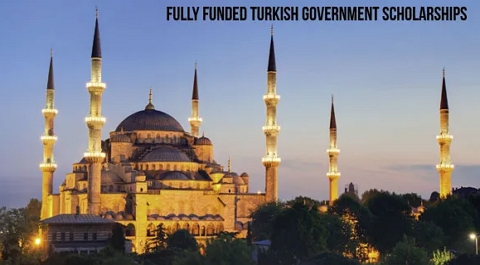 Applications are now being invited for the Turkish Government Success Scholarships from international students from all nationalities. The scholarships duration is for one academic year, and Fully Funded by the Turkish Government. It is open to all students who have completed their first year Bachelor's, Master's, or PhD degree programs in any institution in Turkey.
Scholarship Description
The Turkish Government Success Scholarships are now open to international students taking their Bachelor's, Master's, or PhD degree study in Turkey. The Scholarship is administered by the Turkiye Burslari, fully funded by the Government of Turkey, and open to all the participants from all nationality. The Success scholarship is a comprehensive and unique scholarship program to Study in Turkey, and one of the best paid scholarships in turkey.
Turkey is a beautiful country, attractive and very accommodating to international students. It is about the 2nd country in the world to attain 94.2% of higher education rates. IELTS is not a mandatory requirement for admission in Turkey, though international students can Submit English Proficiency Language Proof, and Courses are Taught in English for international students. The Turkiye Scholarship programs are established and funded by the Turkish Government.
Level and Area of Studies
Undergraduate Programs, Master's Programs and Doctoral Programs in All Disciplines.
Place of Study
Various Institutions in Turkey.
Award Benefits
Full funding by the Turkish Government to include:
Monthly Stipends ranging from 450 to 600 TL per month for Bachelor's to PhD programs
Airfare.
Health Insurance.
Accommodation.
Eligibility Criteria
Eligible candidate must:
Be able to prove their International Nationality.
Be studying for Undergraduate degree in Medicine, Dentistry, and Pharmacy, and must have at least a 2.50 (out of 4) GPA.
Be PhD student's having 3.5 GPA as Required, while Undergraduate students must have a 3.0.
Have completed at least one academic year (2 semesters) in Undergraduate, Graduate, or PhD degree study in Turkey.
Submit and upload the necessary documents to the application system.
Note that Türkiye Scholarships include both scholarship and university placement at the same time.
Also note that they will be placed in a university and program from among their 12 preferences.
Application Procedure
All applications have to be completed online.
Candidates are to sign up or login in to the online portal before they can apply.
Application Periods
1st Period: January to March.
2nd Priod: April to June.
3rd Period: July to September.
4th Period: October to December.