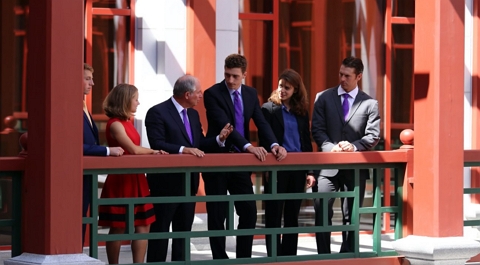 The Schwarzman Scholars Program is currently open for application. This award is available to support scholarly students for master's program at Tsinghua University, China. International students are welcome to apply. A number of awards are available, fully funded to cover all of the related expenses during the period of scholarship. To apply, the completed application form must be received by May or September each year.
Scholarship Description
Every year, a new class is selected to represent the world's next generation of leaders — high-caliber individuals with open minds and limitless potential who will serve to deepen understanding between China and the rest of the world. Each new cohort of Schwarzman Scholars Program will join a global network of the world's most talented young leaders, helping to build stronger links between China and a rapidly changing world.
The Schwarzman Scholars experience is anchored in a rigorous and innovative master's degree program at Tsinghua University, one of the country's leading universities. Drawing on the best traditions of Tsinghua and top academic institutions around the world, the curriculum bridges the academic and professional worlds to educate students about leadership and about China's expanding role in the world. The program also provides Scholars with unparalleled learning opportunities with leaders from China and the world through high-level interactions at lectures, an internship program, a mentors network, and intensive deep-dive travel seminars.
Award Value
The scholarship is fully funded to cover all of the following benefits:
Tuition, fees, room and board, travel to and from Beijing at the beginning and end of the academic year.
An in-country study tour, required course books and supplies, laptop and smartphone.
Health insurance.
A modest personal stipend.
With a $350 million endowment, Schwarzman Scholars will be the single largest philanthropic effort ever undertaken in China by largely international donors.
Level and Area of Studies
Master degree in the field of Economics and Business, International Studies, or Public Policy.
Place of Study
At Tsinghua University in China.
Eligibility and Criteria
To be eligible, applicants are expected to meet these conditions:
Undergraduate degree from an accredited college or university or its equivalent;
Must be at least 18 years old and 29 years old or younger as of August 1;
Married applicants may apply and will be at no disadvantage in the application process;
Meet the English proficiency requirements;
Have an excellent academic performance.
Applicants' Nationality
There is no nationality restriction.
See Also: National Graduate Institute for Policy Studies (GRIPS) Scholarship
Application Instructions
To apply for the Schwarzman Scholars program,
The application must be completed online and submitted electronically once you have answered all the required questions.
The application form must be completed in English.
You do not have to complete the online application in one sitting; you may access, save, and continue work on your application as frequently as needed before submitting the application.
Submission Deadline
May and September every year.