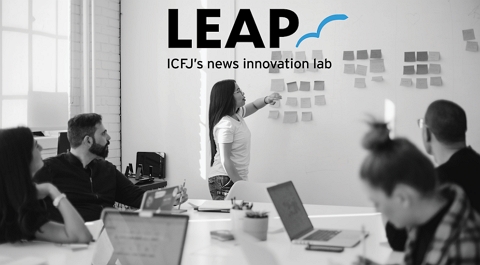 The Leap ICFJ's News Innovation Lab is now open for applications. ICFJ's goal is to identify the most pressing challenges affecting journalism and its mission to serve the public. Addressing those challenges requires creativity – and the time and support to think innovatively. That's where ICFJ's Leap news innovation program comes in. Leap is a space to explore and shape the unfolding future of journalism.
About the Program
The International Center for Journalism (ICFJ) is supporting journalism innovators in several ways:
Innovation lab: Solutions Challenge: A 12-week program to explore, design, and develop products and learn innovation processes
Hackathons:  Events where developers and journalists can meet and invent together.
Fellowships:   Support for innovators working on tools and products that are helping journalism thrive.
Leap Innovation Lab: Many newsrooms don't have the time, infrastructure, or money to invest in experimentation that may not have an immediate payoff. ICFJ's Leap innovation lab provides a guided, focused experience to ease the risk and cost that inhibits innovation in the newsroom. The Leap Innovation Lab organizes Solution Challenges and Hackathons.
See Also:  Mundus Master's Scholarships in Journalism, Media and Globalisation
Solutions Challenge 2023
Tackle AI & Disinformation!
Are you passionate about the intersection of journalism and technology? Do you believe in a future where AI amplifies the truth, rather than distorts it? Join the ICFJ Leap Innovation Lab's 2023 Solutions Challenge on "AI and Disinformation!"
What's in Store?
Collaborate with a diverse group of journalists, technologists, and product specialists.
Access cutting-edge tools like GPTZero's APIs, Adobe's Content Authenticity Initiative, and Google's Claim Review.
Innovate solutions to detect AI-manipulated content, safeguard genuine news, champion ethical AI use in newsrooms, and fast-track fact-checking.
Highlights | Leap ICFJ's News Innovation Lab
Dive deep into a design-thinking process with our experienced coaches.
Develop a minimum viable product with hands-on mentorship.
Pitch your game-changing idea for a chance to secure a development grant.
Last year's challenge focused on "Building Trust in News." Let's raise the bar this year and lead the way in combating disinformation in the age of AI!
Applications open on August 18. Gear up for an intensive 12-week program starting September 18.
The sessions are virtual. Participation requires:
Two 90-minutes sessions per week: Tuesday and Thursday 9:00 -10:30 am ET.
Three half-day sessions Saturday in October for the Sprint.
Fluency in English
Don't miss this chance to be a beacon of truth in the digital era!
Check Also:  Mitacs Globalink Research Internships in Canada
Application Procedure
Use the 'Apply" tab on the official webpage to apply to the Leap ICFJ's News Innovation Lab.