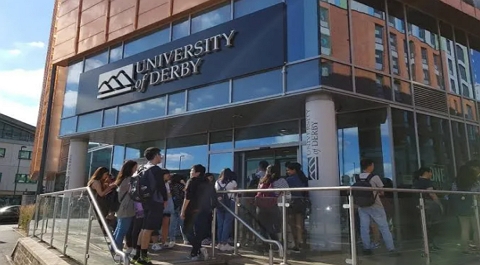 Application now opens for International Students from select countries who are seeking to take a Postgraduate study in the UK through the GREAT Scholarships programme at the University of Derby.
This programme is for a one-year postgraduate study with support up to £11,000 for a limited number of Scholars that will be selected from the listed countries.
Scholarship Description
The University of Derby in partnership with the British Council and the GREAT Britain Campaign, is offering 8 scholarships to international students applying for postgraduate courses starting in September 2022. The GREAT Scholarships programme, launched by the British Council together with 41 UK universities, aims at supporting postgraduate students to access world-class UK higher education opportunities.
Award Benefits
The GREAT Scholarships programme offers financial support of £11,000 to eligible students pursuing one-year postgraduate study at the University of Derby and must be from one of the following countries:
China, Ghana, India, Indonesia, Malaysia, Nigeria, Pakistan and Thailand.
Number of Awards
8 scholarships to international students
Place of Study
The University of Derby, UK
Eligibility Criteria
The eligible candidates must be:
A citizen of a GREAT target country
Have an undergraduate degree that will enable you to gain entry onto a postgraduate programme at a UK university
Motivated and academically able to follow and benefit from a UK postgraduate taught course
Active in the field with work experience or with a proven interest in the proposed subject area
Meet the English language requirement of the University of Derby
Willing to embody the University of Derby experience, by attending lectures and tutorials and engaging with extra-curricular activities, and act as an ambassador for University of Derby, by promoting the value of studying at a UK HEI
Willing to establish an engagement with the UK as a scholar, through personal and academic fulfilment
Represent the high standards of the GREAT brand by becoming an advocate for scholarships
Willing to attend a networking event of all UK-based GREAT scholars, to discuss experiences and capture perceptions of studying in the UK
On return:
Willing to demonstrate future contribution to capacity-building and socio-economic advancement through the benefits achieved after graduating from UK higher education
Willing to maintain contact with the British Council and act as an ambassador for the GREAT Scholarships, by sharing experiences of studying in the UK with future GREAT scholars
As an alumnus of the GREAT Scholarships, willing occasionally to speak to potential candidates about his or her own experience of studying in the UK
Check Also: The Boustany Astronomy PhD Scholarship at Cambridge University, UK
Application Procedure
Applications for the British Council GREAT scholarship should be made after you have received an offer, using the form provided. In addition to your application, you will need to include an essay of no more than 500 words about a topic you have studied previously and why you found it interesting. This topic should be related to or have inspired you to apply for your chosen degree programme. This essay will be part of the shortlisting criteria, alongside previous academic achievement, and the potential you show.