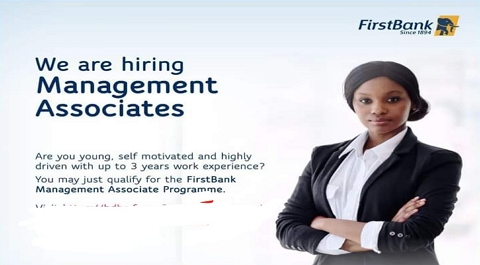 Apply for the FirstBank Management Associate Program (FMAP) – Nigeria if you are a young, dynamic, self-motivated and highly driven individual interested in advancing your career in the financial sector cross-country. Eligible internal candidates can also apply, and there is no nationality limitation. Apply now to become a High-Potential Staff with an international repute.
Job Description
The FirstBank Management Associate Program – Nigeria is part of management's efforts to consciously integrate leadership into the Bank's culture, as well as build a pipeline of next generation of leaders who will be groomed to drive the Bank's vision of being Africa's Bank of first choice, the Board recently approved the implementation of FMAP.
It is designed as a 24-month fast-track comprehensive developmental program targeted at young, dynamic, self-motivated and highly driven individuals who possess acute thinking skills, financial and methodical skills, as well as distinctive ability to communicate effectively and synthesize ideas, information and data to aid decision making.
Eligible internal candidates who are willing to take advantage of this window of opportunity to fast-track their career and be part of the next generation of leaders of our iconic institution can apply.  Such individuals must be between BA & SBO grades and possess the right skills set and excellent leadership potential.
See Also:  Afreximbank Internship Programme for Young Africans
Benefits | FirstBank Management Associate Program
Upon completion of the program:
Successful candidates (Management Associates) will be promoted to Assistant Manager grade, irrespective of their grades at the point of entry.  Such individuals will be tagged as High-Potential staff (HiPos) in the Bank and will enjoy regular promotion subject to consistent high-performance ratings in the yearly appraisal exercise.
Full time posting will be assigned based on the delegate's preferred/selected business function.
Cross-country posting and secondment opportunities will be offered to such staff across the FirstBank network to provide them global exposure and network.
External Qualification
Candidates for the FirstBank Management Associate Program must possess the following qualifications:
Not more than 30 years old.
Minimum of 3 years' work experience in a structured organization, preferably financial services sector or global consulting firm.
Minimum of Second-Class Upper division in any discipline from a recognized University.
In addition to the above, candidates must have a post-graduate degree (minimum Master's degree) from a reputable university; OR
Relevant professional qualifications such as ACCA, ACA, CPA, CFA
Check Also:  OPEC Fund's Young Professional Development Program
Application Procedure
Applications for the FirstBank Management Associate Program (FMAP) – Nigeria must be done through the Online Application portal with all the relevant documents attached. Please use the link provided below to access the application page and apply before the deadline.
Application Deadline: March 24.