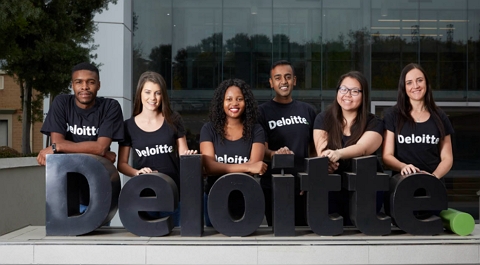 Deloitte Recruitment is now open for graduates and Consultants in Nigeria to join the largest private professional services network in the world. This is an opportunity to join about 312,000 professionals in more than 150 countries to demonstrate a commitment to making an impact that matters.
Deloitte Recruitment will offer you a practice that serves multinationals, large national enterprises, small and medium-sized enterprises and the public sector across West Africa and the world.
Details
Deloitte Recruitment in Nigeria: Deloitte is one of the leading professional services firms, specializing in providing Audit, Tax, Consulting, Risk Advisory and Financial Advisory services, and serve clients in a variety of industries from financial services, consumer, telecommunications, media & technology, energy resources & Industrial and government and public services.
As professionals unified by a collaborative culture that fosters integrity, outstanding value to markets and clients, commitment to each other, and strength from cultural diversity, Deloitte is committed to strengthening corporate responsibility, building public trust, and making a positive impact in communities. While professionals may hold interests outside of the work space, work/life balance is encouraged by supporting team members in all aspects of their lives.
See Also:  United Nations Young Professionals Programme (YPP) for Graduates
About Consulting
Innovation, transformation and leadership occur in many ways. At Deloitte, our ability to help solve clients' most complex issues is distinct. We deliver strategy and implementation, from a business and technology view, to help you lead in the markets where you compete.
Specialized Competencies | Deloitte Recruitment
Strategy Consumer and Marketing: Strategic and Business Design, Mergers and Acquisitions, Customer and Applied Design, Advertising, Marketing and Commerce, Digital Customer.
Core Business Operations: Operations Transformation, Industry Solutions (Experience in Financial Services, Telecommunications and Technology, Consumer and Industrial Products and Oil and Gas are a plus), Systems Engineering, Cloud Engineering, Analytics and Cognitive.
Human Capital: HR Transformation, Organization Transformation, Workforce Transformation.
Enterprise Technology and Performance: Finance and Performance, Supply Chain and Network Operations, Technology Strategy and Transformation, ERP: SAP, Emerging ERP Solutions.
Job Description
Before you apply for the Deloitte Recruitment openings, note that you should:
Be willing to live our purpose of making an impact that matters.
Have graduated from a recognized University/ Polytechnic with a minimum of a 2.1 or its equivalent in any discipline.
Have a minimum of five (5) credits (including Maths and English) in one sitting.
Be maximum of 26 years old.
Have completed the National Youth Service Corps (NYSC) scheme.
Not have written the Deloitte aptitude test before.
Be yourself, and more.
Yes, Deloitte Recruitment connects you to a group of talented people who want to learn, gain experience, and develop skills. Wherever you are in your career, we want you to advance.
With Deloitte, you can have as many careers as you want, we are uniquely able to offer you new challenges and roles – and prepare you for them. It is bringing together people with unique experiences and talents, and the place to develop a lasting network of friends, peers, and mentors. It's about relationships – between leaders and their people, the firm and its people, peers, and within in our communities.
Opportunities
Graduate Recruitment – Risk Advisory
Graduate Recruitment – Financial Advisory
Graduate Recruitment – Consulting
Graduate Recruitment – Tax & Regulatory Services
Graduate Recruitment – Audit & Assurance
Manager, Accounting & Financial Reporting Services
Talent Acquisition Specialist
Consulting – Cloud Service Manager
Executive Assistant
 Also Check:  Western Union Foundation Fellowship (Fully Funded)
Job Location: Lagos. You will get details for each position as you open the link on the available job titles.
Application deadline: Thursday, 08 December, but may differ for some positions.