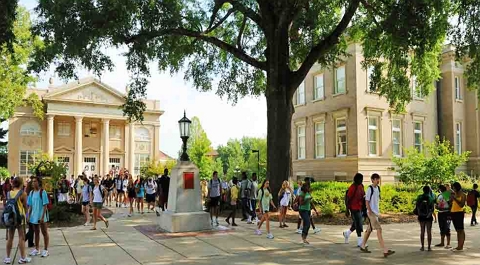 Applications are hereby invited for The University of Mississippi Scholarships from suitably qualified students across the globe who wish to pursue an undergraduate degree in a reputable institution of higher learning in the United States. The awardees will receive full funding for period up to four academic years. Interested students are urged to forward their applications to the University.
Program Details
Founded in 1848, The University of Mississippi is one of the oldest public institutions of higher education in the southern United States. It offers a wealth of opportunities for international students interested in undergraduate or graduate programs at a U.S. university. It emphasizes strong classroom teaching and research supported by the excellent library, laboratory and technical facilities.
Mississippi University Scholarships are generally offered for enrollment starting with a fall term, and are non-deferrable and non-transferable, though are renewable, provided academic progression and grade requirements are met, and lawful presence in the USA is maintained.
See Also: PEAES Postdoctoral Fellowship Program in the United States ($50,000)
Award Value
Scholarships range from $23,454 to $3,900, or approx. 95% to 15% of undergraduate tuition (= the cost of base and non-resident tuition); or from 55% to 9% of the total cost of study (= the cost of tuition, housing, meals, books, health insurance, etc.)
Level and Areas of Study
The offer is towards a bachelor's degree in all eligible taught course at the university.
Place of Study
The scholarship opportunity is at University of Mississippi in the United States of America.
Eligibility Criteria
To be eligible for The University of Mississippi Scholarships, applicants must meet the following requirements:
Applicant must fall into the category of foreign students for tuition fee purpose.
Must have relevant academic certificate requirement for admission into a US institution of higher learning.
Must be English Language proficient (oral and written).
Must demonstrate outstanding academic and leadership abilities.
Must be available to begin the academic session if successful.
International students who are externally funded (e.g. by their government) may not qualify for these scholarships.
Check Also: Mcdaniel College International Student Scholarship in the United States
Application Procedure
Interested candidates for the Mississippi University Scholarships for International Students are required to first seek admission into an eligible course at the institution.
The submission deadline for the program application is unspecified.