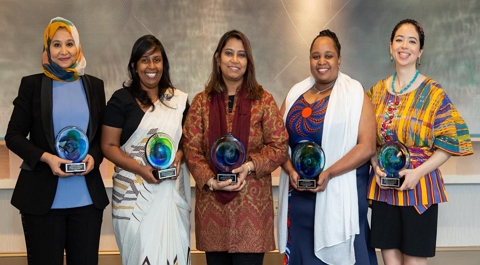 The OWSD Early Career Fellowship for Postdoctoral Researchers, organized by the Organization for Women in Science for the Developing World is now inviting applications from researchers from around the world. The researchers should be scholars working from research institutions anywhere in the approved countries, and intending to undertake postdoctoral research in the fields of STEM. The Fellows will receive award benefits amounting to USD50,000.
Fellowship Description
The OWSD Early Career Fellowship for Postdoctoral Researchers is a prestigious award of up to USD 50,000 offered to women who have completed their PhDs in Science, Technology, Engineering and Mathematics (STEM) subjects and are employed at an academic or scientific research institute in one of the listed Science and Technology Lagging Countries (STLCs). The OWSD Early Career fellows are supported to establish environments at their institutions where they can maintain an international standard of research and attract scholars from all over the world to collaborate.
The OWSD Early Career Fellowship programme is administered by OWSD with funds generously provided by the International Development Research Centre (IDRC), Canada, and with additional support by the Aspen Institute Italia.
Award Benefits
The OWSD Early Career Fellowship is for three years and provides up to USD 50,000; and
It does not provide for the fellow's salary, which must be guaranteed by the fellow's institution.
The fellow's institution must waive any overhead or indirect costs on the research project.
Initial advance payment, disbursements at regular intervals, reimbursements of expenses are made with funds advanced by the Administering Institute, and also support for direct procurement done by the OWSD Secretariat on fellows' behalf (only for purchases above USD 10,000).
Teaching and Assistance: The fellows may also need assistance from,
MSc, PhD, Post doctoral researchers
Research assistants (e.g. to gather information and data)
Teaching assistants
Family care assistance (e.g. childcare costs in order for fellow to undertake research project, travel support for family members)
Other assistant (based on applicant's needs, e.g. casual labour)
See Also:  British Council Scholarships for Women in STEM, UK
Eligibility | OWSD Early Career Fellowship
To be eligible to apply for the OWSD Early Career Fellowship applicants must meet the following criteria:
Eligible countries
Applicants must have been resident in one of the listed Science and Technology Lagging Countries (STLCs) for at least 5 years. The 5 years do not have to be consecutive.
Applicants can be citizens of any country, provided that the above residence requirement is fulfilled.
Eligible employment
At the time of application, applicants must provide proof of being employed at the university or research institute where the research project will be carried out. If employment has not yet commenced, a proof of employment offer and confirmation of acceptance is required.
The institution where the research project will be carried out must be in one of the listed STLCs.
Applicants must provide evidence that they will receive a salary from their university/research institute for the duration of the three-year fellowship.
Eligible STEM fields (Science, Technology, Engineering and Mathematics)
Agricultural Sciences
Astronomy, Space and Earth Sciences
Biological Systems and Organisms
Chemical Sciences
Computing and Information Technology
Engineering Sciences
Mathematical Sciences
Medical and Health Sciences
Neurosciences
Physics
Structural, Cell and Molecular Biology
Research project proposals from other fields (social science, education, etc.) are not eligible and will not be taken into consideration.
Eligible academic qualification
PhD in one of the above listed study fields.
Also Check:  UK IC Postdoctoral Research Fellowships
Application Procedure
All applications must be submitted online using the tab on the official application webpage, with all the accompanying documents uploaded on the online application system.
The official language for the application is English.
Please read up all the application guidelines on the application before you start your application.