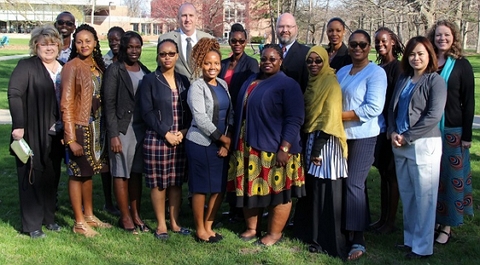 The Nnamdi Azikiwe African Student Fellowship is open to scholars from Africa undertaking a study at Michigan State University. A fellowship of up to $2,000 is provided to support international African students who travel to Africa for research. Eligible candidates should apply before the deadline.
Fellowship Details
The African Studies Center recognizes that international African students studying at Michigan State University (MSU) have limited opportunities to apply for grants and fellowships to conduct research in Africa – usually reserved for citizens and permanent residents of the United States.
The award honors former Nigerian President Nnamdi Azikiwe, a scholar and politician, who led Nigeria as its first civilian president and who invited MSU faculty to join him and other Nigerians to build a land-grant model university in Eastern Nigeria. This became the University of Nigeria at Nsukka.
Check Also: AI4D Scholarships for Sub-Saharan Africa
Program Benefits
A fellowship of up to $2,000 to support international African students travel to Africa for research.
Level and Areas of Study
The opportunity is for undergraduate and postgraduate students across various disciplines.
Place of Study
The fellowship will take place at institutions in Africa.
Eligibility Criteria
In order to be eligible for Nnamdi Azikiwe African Student Fellowship, applicants must meet the following conditions:
Only African undergraduate or graduate students conducting research in Africa are eligible for this fellowship.
Applicants must be currently enrolled in an MSU degree-granting program, and awardees must return to MSU as registered students in the semester following the award.
Priority will be given to students in good academic standing and with demonstrated financial need.
Applicants must successfully complete any MSU requirements related to doing research abroad (IRB training for instance)
Fellowship recipients must write and submit a report (3 to 5 pages) to the African Studies Center within one month of their return from Africa.

 
See Also: Google for Africa Business Event
Application Procedure
The fellowship program is administered by the African Studies Center. Interested applicants are to apply online and submit the following required documents:
Personal Information
Proposal
Curriculum Vitae or Resume
Transcript
Budget
The submission deadline for this fellowship program is 30th October.