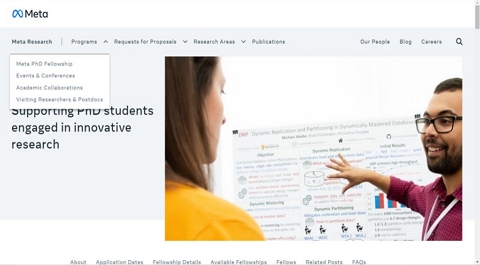 The Meta Research Fellowship Program is now open to students from around the world to apply. They must be currently working on their PhD research in one of the related fields in Computer Science and Engineering. A range of interesting benefits will be given to the winning fellows.
Fellowship Description
Facebook, now Meta is pleased to announce its Meta Research Fellowship Program to students at all universities both in the United States and in other countries, especially to the underrepresented minority groups. It is open to full-time PhD students (domestic and international) enrolled during the current academic year and studying computer science, computer engineering, electrical engineering, system architecture, or a related area.
See Also:  University of Oldenburg PhD Scholarships, Germany
Award Value
Each winner will be granted the benefits as follow:
Tuition and fees will be paid for the academic year (up to two years).
$37K grant (one-time payment during each academic year).
Up to $5,000 in conference travel support.
Paid visit to Meta HQ to present a research work.
Opportunity for a paid internship at Facebook ( now Meta).
Level and Area of Studies
PhD research in fields related to computer science, computer engineering, electrical engineering, system architecture.
Place of Study
Any Institution worldwide.
Eligibility and Criteria
Full-time PhD students who are currently involved in on-going research.
Students work must be related to one or more relevant disciplines.
Students must be enrolled during the academic year(s) that the Fellowship is awarded.
The Meta Research Fellowship Program is open to PhD students globally who are enrolled in an accredited university in any country.
Applicants Nationality
There is no nationality restriction.
Check Also:  Government of Mexico Excellence Scholarships for Foreigners ( Fully Funded)
Application Procedure
Interested and eligible candidates for the Meta Research Fellowship Program should proceed to apply online by visiting the official website through the application link (below). Applicants are advised to supply accurate information and supporting documents where necessary.
Application Period
August 3 to September 20.