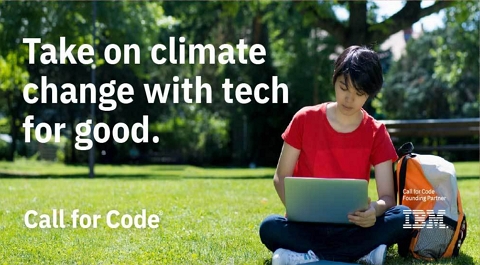 Through the Call for Code Global Challenge, you can learn about AI, cloud development and emerging technologies while you make a difference. Form a team and take on sustainability issues from improving supply chains to clean energy solutions and protection of biodiversity.
Global Challenge Details
As part of the 5th annual Call for Code Global Challenge, design and build an opensource solution in the cloud to take on a sustainability issue. We're calling on teams of developers and problem solvers to leverage open innovation and develop technology solutions that address specific global sustainability problems in unique, clearly demonstrable ways. The top Global Challenge solution receives implementation support from IBM and the Call for Code ecosystem to make a real impact in the communities with the greatest need.
The Global Challenge is a competition that asks developers and problem solvers to build sustainable opensource solutions that address the world's greatest social and humanitarian issues.
seeks effective, creative, and sustainable applications built during the 2022 the Global Challenge period running from April 26, 2022 at 12:00 am PDT to October 31, 2022 at 11:59 pm PDT, that have a lasting, positive, and significant impact.
Grand Prize
$200,000.00 USD (Distributed by Call for Code LLC)
The Call for Code Global Prize
Opensource support from The Linux Foundation
Solution implementation support from IBM and the Call for Code ecosystem.
Eligibility Criteria
Contestants must not be employees, employers, officers and directors of:
IBM Group, including Red Hat
Government agencies, departments, branches, instrumentalities and public enterprises, whether regional, national or local
Any advertising and promotion agencies, and those individuals and entities involved in the preparation of materials for, administration, organization (including David Clark Cause) and/or execution of this event and/or this Contest (all collectively the "Promotion Entities"), and, and
The immediate family members.
Prior to registering for the Event, each participant, whether individually or as part of a team, must ensure:
Their eligibility to participate, intellectual property and acceptance of prizes.
They are university or college students employed by their educational institution for part-time work, through work-study programs or otherwise, are eligible to participate in the Contest.
That all team members must be students that have been enrolled in an accredited institution of higher education at any time during the 2022 Call for Code Global Challenge (April 26, 2022 – October 31, 2022).
Entry Procedure
To participate in the Challenge, contestants will need create a profile in the Official Application page using the below link to register.