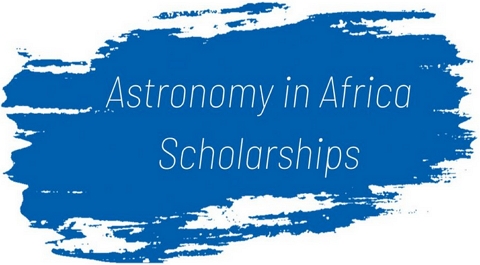 The Astronomy in Africa Scholarships is open to African candidates with academic excellence who wish to undertake a two-year Master of Science (MSc) degree in a South African University. The students will receive full funding which includes fees, return air ticket, accommodation, medical insurance, visa costs and monthly stipends. Interested candidates are urged to apply now.
Program Details
The International Astronomical Union (IAU) will host its 32nd General Assembly in Cape Town, South Africa, in 2024 (GA2024). This is the first time in the 100+ year history of the IAU that the General Assembly will be held in Africa, which provides a prime opportunity to showcase the cutting-edge research infrastructure and excellent talent in the science area on the continent.
In anticipation of the 32nd General Assembly, the National Organising Committee of the IAU GA2024 seeks to award high impact "Astronomy in Africa" scholarships to eligible African candidates that aligns with the hosting of this historical event.
Check Also: British Council Scotland SGSAH EARTH Scholarships
Award Benefits
Student fees
One international return flight
Visa costs
Medical insurance
Accommodation
Stipend
Interact with the global astronomy community
Level and Areas of Study
The scholarship opportunity is for a MSc degree program in fields related to Astrophysics/Astronomy.
Place of Study
The program will take place at universities in South Africa.
Eligibility Criteria
To be eligible for Astronomy in Africa Scholarships, applicants must fulfil the following requirements:
Candidates from any African country are eligible to apply.
Applicants must be eligible to register for an MSc degree at a South African university specialising in astrophysics/astronomy. 
Candidates must have liaised with potential supervisors from recognised South African universities.

Potential supervisors must provide an accompanying letter of support for the candidate, which includes a brief statement of the proposed research project.
See Also: WAAW Foundation Scholarships for Female Students, Africa
Application Procedure
Apply online here.
Arrange to have one reference letter to be sent directly to info@astronomy2024.org, by the application deadline, and with your name in the subject line.
Candidates must submit a motivation and upload a CV (maximum of 2-pages, 12-pt font), recent academic transcripts and a scan of their undergraduate degree certificate.
Candidates must upload a letter of support from their potential supervisor. The letter must include a brief statement of the proposed research project.
The submission deadline for this offer is 7th October.