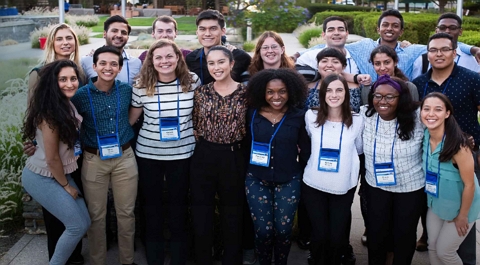 Applications for the Amgen Scholars Asia Program are now invited. Students from any country are welcome to apply. He or she must be pursuing undergraduate degree in any major and will be undertaking scientific research at any of the four premier Asian Universities – Kyoto University, University of Tokyo National University of Singapore, and Tsinghua University, China. Up to hundreds of awards will be given away.
Scholarship Description
The Amgen Scholars Asia Program provides hundreds of selected undergraduate students with the opportunity to engage in a hands-on research experience at many of the world's leading educational institutions.
Award Value
Kyoto University
180,000 yen will be provided to Amgen Scholars. 90,000 yen at the time of orientation (to be held on July 1) and 90,000 yen from the International Student Mobility Division around July 31
Student will also receive accommodation, travel and health facilities
University of Tokyo
Rooms: Near-campus accommodation
Stipends: Amount varies depending on the location of the university / college that applicants currently belong to Asia / Oceania: 450,000 JPY, Europe / North, Central and South America: 500,000 JPY, Africa / Middle East 600,000 JPY 600,000 JPY and Japan 300,000 JPY.
Level and Area of Studies
Scientific research in any subject.
Place of Study
The research will be taken in four premier Asian Universities:
Kyoto University, Japan.
The University of Tokyo, Japan.
National University of Singapore (NUS).
Tsinghua University, China
Eligibility and Criteria
Amgen Scholars Asia Program applicants must be:
Undergraduate students enrolled in colleges or universities worldwide that award a bachelor's degree (or its equivalent); and
Undergraduate students enrolled in four-year colleges or universities who are sophomores in their second year (with four quarters or three semesters of college experience), juniors in their third year, or non-graduating seniors in their fourth year (who are returning in the fall to continue their undergraduate studies).
Amgen Program applicants must also have:
A strong record of academic performance; and
A good working knowledge of English, demonstrated by a minimum TOEFL (iBT) score of 79, or IELTS overall band score of 6.0, or the equivalent in principle; and,
An interest in pursuing a Ph.D.
Applicants' Nationality
There is no nationality restriction.
Application Instruction
Each university has own application procedure and requirements. Please learn the detail information at the website and application link below.