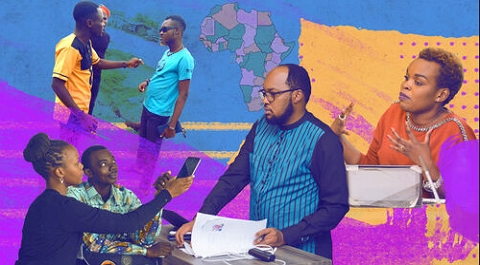 The Africa No Filter and Thomson Foundation partners to deliver a Disruptive Journalism Course to all journalists and media experts with interests in Africa. The aim is to train journalists to change the narrative storytelling style of negativity about Africa to telling African stories in an African perspective.
Course Description
A Narrative change organization, Africa No Filter has partnered with the Thomson Foundation for a groundbreaking digital course called African Stories: A guide for journalists on how to tell better stories about Africa.
The Disruptive Journalism Course aims to disrupt stereotypical news and storytelling about Africa by helping journalists develop a fresh reporting style beyond framing Africa through conflict, disease, poverty, corruption and poor leadership.
It will be presented by journalism and media experts. Catherine Mackie is an Editorial Associate at the Thomson Foundation and a former BBC senior journalist. Dr Njoki Chege is the Director of the Innovation Centre at the Graduate School of Media and Communications at the Aga Khan University in Nairobi. Moses Mutabaruka is the founder of TAP Media Ltd and editor of TAP magazine, a pan-African platform that tells stories from an African perspective. Anas Aremeyaw Anas is an internationally acclaimed undercover investigative journalist, while Doreen Wainainah is Managing Editor of PesaCheck, Africa's largest indigenous fact-checking organisation.
The course is designed to boost participants with in-demand skills like mobile journalism, visual and multiplatform storytelling. It offers techniques for finding missing voices in African stories, tips and tools for sourcing, verifying information, and structuring stories beyond stereotypes – valuable resources for journalists who want to monetise global conversations about shifting narratives, ethical storytelling, and diversity of voices and ideas in African news.
See Also:  Miles Morland Writing Scholarships for African Writers
What You Will Learn
You will learn how to challenge the stereotypical image of Africa and Africans
You will learn the importance of understanding your audience
You will understand the need to include new voices
You will learn how to source and verify stories and information
You will learn the key ingredients of storytelling and story structure
You will learn new ways of telling stories for digital audiences
Course Outline
SECTION 1 – Gives an overview of the course and an introduction to the course trainer and media experts
SECTION 2 – Examines the media landscape in Africa and the current narrative
SECTION 3 – Explores the importance of engaging your audience
SECTION 4 – Guides you on finding the missing voice in stories
SECTION 5 – Gives guidance on sourcing stories
SECTION 6 – Guides you through storytelling techniques
SECTION 7 – Offers ideas on structuring your story
SECTION 8 – Explores visual storytelling with tips on using your smartphone
SECTION 9 – Examines multimedia and multi-platform storytelling
SECTION 10 – Guides you on how to verify stories and information
Check Also:  Melbourne Master of Journalism Scholarships – Australia
Application Procedure
Interested journalists interested in enrolling for this Disruptive Journalism Course should use the link to the official application page on the Africa No Filter website to get more information on how to apply.